Global Initiative to Transform Impact of Research and Innovation for World's Most Vulnerable
March 3rd, 2022 | Philanthropy Advisors
Philanthropy Advisors (PA) and its partners Innovation Consulting & Solutions (ICS), IARAN and Gray Dot Catalyst, have been mandated to contribute to Elrha's Global Prioritisation Exercise (GPE). The study, the first-of-its-kind, aims to help ensure research and innovation can answer the world's most pressing needs.
As a global charity evolving in complex humanitarian settings, Elrha produced its first Global Prioritisation Exercise for Humanitarian Research and Innovation (GPE) in 2017. This represented the first global effort to transform the impact of research and innovation in the humanitarian system. The first version of the GPE aimed to provide visibility of the range of global investments, capacity and activity in humanitarian research and innovation. The idea was to consult a wide range of actors and identify shared priorities for further investment and action.
Five years later, Elrha is updating this exercise. The first phase of this effort is a global mapping, carried out by a consortium of researchers across the world led by the American University of Beirut. This consortium will identify what is currently underway in terms of humanitarian research and innovation worldwide, including where it's happening, who is funding it, and how communities affected by crises are engaged. 
The second phase is a three-tiered consultation process which will engage global, regional and national, and community stakeholders. These actors will participate in the identification of critical gaps and opportunities for research and innovation to inform and improve humanitarian policy and practices.
Philanthropy Advisors and its partners Innovation Consulting & Solutions (ICS), IARAN and Gray Dot Catalyst are conducting the global and community consultations. They aim to fill knowledge gaps, document any recent progress on the issues raised in the 2017 GPE, and identify factors contributing to the evolution of the research and innovation ecosystem in the sector. While the global consultation will target high level global actors with the power to influence key decisions and processes related to research and innovation, the community consultation will focus on grassroot organisations and community stakeholders in Syria, South Sudan and Bangladesh.
"Humanitarian needs are rising rapidly, and funding is not keeping up" said Mark Bowden, Chair of the GPE Reference Group and Senior Research Associate with the Humanitarian Policy Group at Overseas Development Institute. "This year, one in 29 people worldwide need humanitarian assistance and protection. It was one in 33 people last year.  If the humanitarian system is to successfully support the most vulnerable people, it needs to be truly anticipatory and fit for purpose when responding to crises. Innovation and research can play a vital role in saving lives, but we need to invest more in them and take a more coordinated and strategic approach when we do so. That's what this Global Prioritisation Exercise will lay the foundations for."
About Elrha
About Philanthropy Advisors
Founded in 2012 by humanitarian professionals, Philanthropy Advisors is an international consulting firm with offices in Geneva and Paris, which offers customised services to donors, companies, international organisations and non-governmental organisations. PA provides a  range of services to clients, including research and studies,  strategy definition, organisational development, Monitoring & Evaluation (M&E) and learning; while placing particular emphasis on field comprehension, quality, transparency and impact.

Contact: Diana Puyo – Project leader for the Global and Community consultations, by email on

d.puyo@philanthropyadvisors.org

. 
About Innovation Consulting & ٍSolutions 
Founded in 2019 in Turkey & UK by a group of highly qualified technocrats, tech-savvy humanitarians and development experts, MEAL consultants and academics from different parts of the Arab region. We are working to support local communities, civil society, NGOs, international agencies to achieve their social, human, technology and infrastructure development. We do so through delivering innovative programme support in the field and conflict-affected countries, technology-driven solutions, in-field research, MEAL services and impact evaluations, designing customised guidance and inspiring training materials for key stakeholders in the humanitarian world.

Contact: Mohammed Alashmar  – Project Coordinator (MENA Humanitarian Consultant & ICS Regional Coordinator) for Community Consultation, by email on

mohamad.alashmar@innovationsln.com

  
About Gray Dot Catalyst
Founded in 2013 Gray Dot Catalyst has been working with over 50 organisations on Innovation, Strategy and Partnering in more than 20 countries. 

Contact:

Ian Gray

– Director by email on

ian@graydotcatalyst.com
About  IARAN
The

Inter-Agency Research and Analysis Network

(IARAN) is a collaborative hub of humanitarian professionals that brings foresight analysis and strategic planning together in the humanitarian sector. The objective of the IARAN is to enable humanitarian actors to plan collaboratively, design systemic responses, build adaptable strategies, and drive real and lasting change. 
The IARAN initiative was an operational research project founded in 2012. It has been financially supported by Save the Children and Action Against Hunger during the test and pilot phase (2012-2017). Since 2018 the IARAN is an independent and collaborative hub of humanitarian professionals, its consulting entity is based in the UK as a ltd company while its membership organisation is based in France. 
IARAN produces independent foresight and strategic analysis and provides strategic foresight training, mentoring, coaching and counseling to humanitarian ecosystem actors. It also works with organisations to design agile multi-year strategies at the country, regional and global level. In november 2021 IARAN published a manual providing humanitarian practitioners and policy makers with a toolbox to apply foresight and strategy in their work.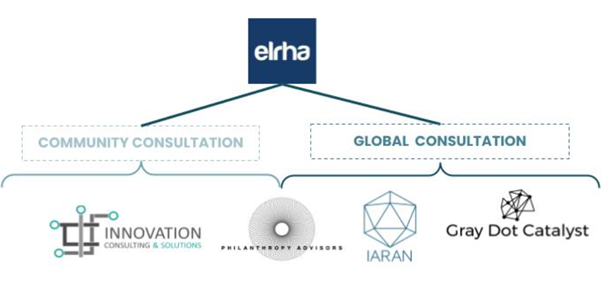 Original article on Philanthropy Advisors